/
Kennedy's 4th birthday PARTY!
My baby girl is F O U R !!!
I spent the last week looking at photos of Kennedy Grace being born all the way til present day, and by the end my heart was a puddle. I am so grateful to the Lord for giving her to me and Ryan. She has a vivacious spirit, sweet n sassy personality, and a creative mind & imagination. She's a social butterfly, a little leader, and fiercely loves her brother and every sugary, sweet treat.
We are constantly praying for her salvation and that she will know and experience how deeply loved and delighted God is in her! Zephaniah 3:17 has been our life verse for her since her first breath,
"The Lord your God is in your midst,
a mighty one who will save;
he will rejoice over you with gladness;
he will quiet you by his love;
he will exult over you with loud singing.
Now, on to her 4th birthday party! Like most little girls, she is Frozen obsessed, and Elsa is her favorite character.
I ordered her the sweetest Elsa princess dress, complete with shoes & jewelry for her to wear.
Since we are in the middle of COVID, we planned a party with some family who lives in Dallas. She wanted all her little girl cousins to attend, so we had it at her Pops & Pippa's house right before the Super Bowl.
Cakes can be so expensive, so I got creative, which was so much fun for me! I up with a Frozen design for her cake, baking + decorating it. In college, I worked at a candy shop (Candy Haven in Denton, TX), and, while I was never employed as a cake decorator, I tried to pick up on a few tricks along the years I was there. A blue ombre cake with white chocolate snowflakes and edible sparkly sand sounded super extra, just like my girl, so I went for it! She already had this adorable Elsa figurine gifted to her from her G-Ma, and it was the perfect cake topper.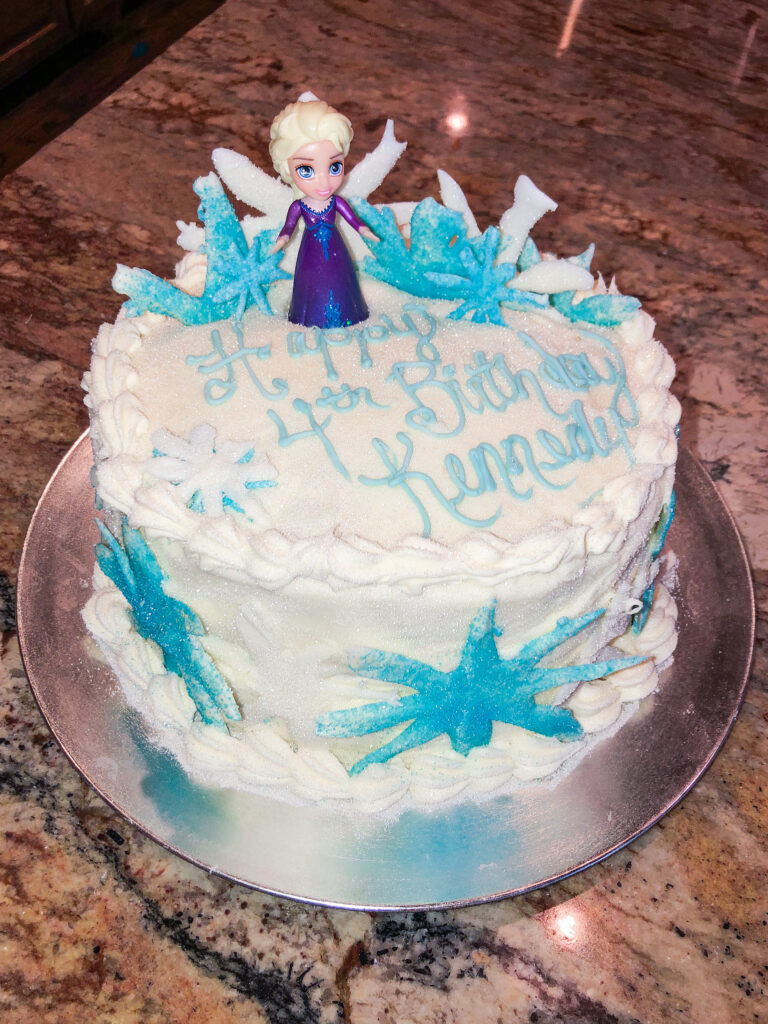 Her big present was a Frozen bicycle with training wheels, complete with a matching helmet and bell!
The party was fit for multiple princesses as we had all her girl cousins dress up, too! It was soooo adorable! Anna, Elsa, Minnie and Belle all made appearances. Haddon arrived as himself and his motto was "The higher the hair, the closer to God."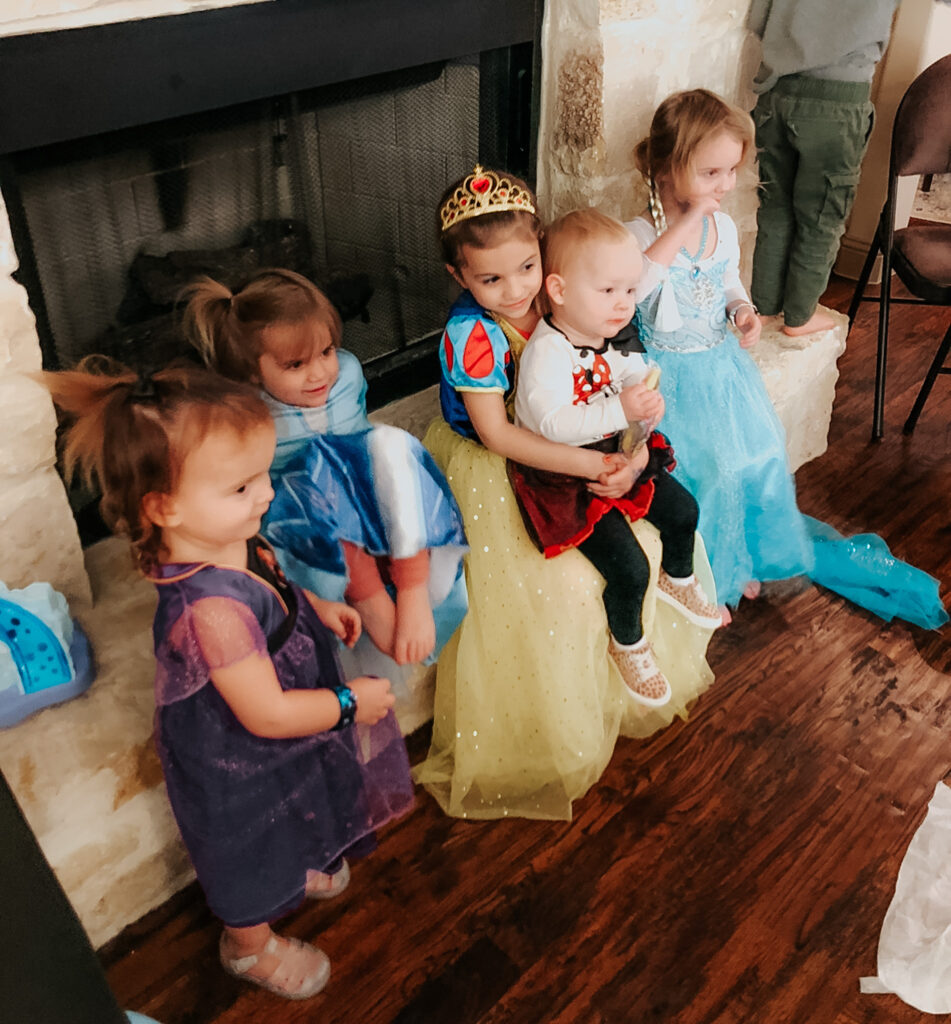 I put together little party favors for her cousins, including slap bracelets! Gosh, I remember having a ton of them when I was a little girl, so it was fun to show Kennedy and the rest of the girls this sparkly accessory. The party favor bags included a jewel lip gloss, ring, temporary tattoos, a slap bracelet and Frozen gummies.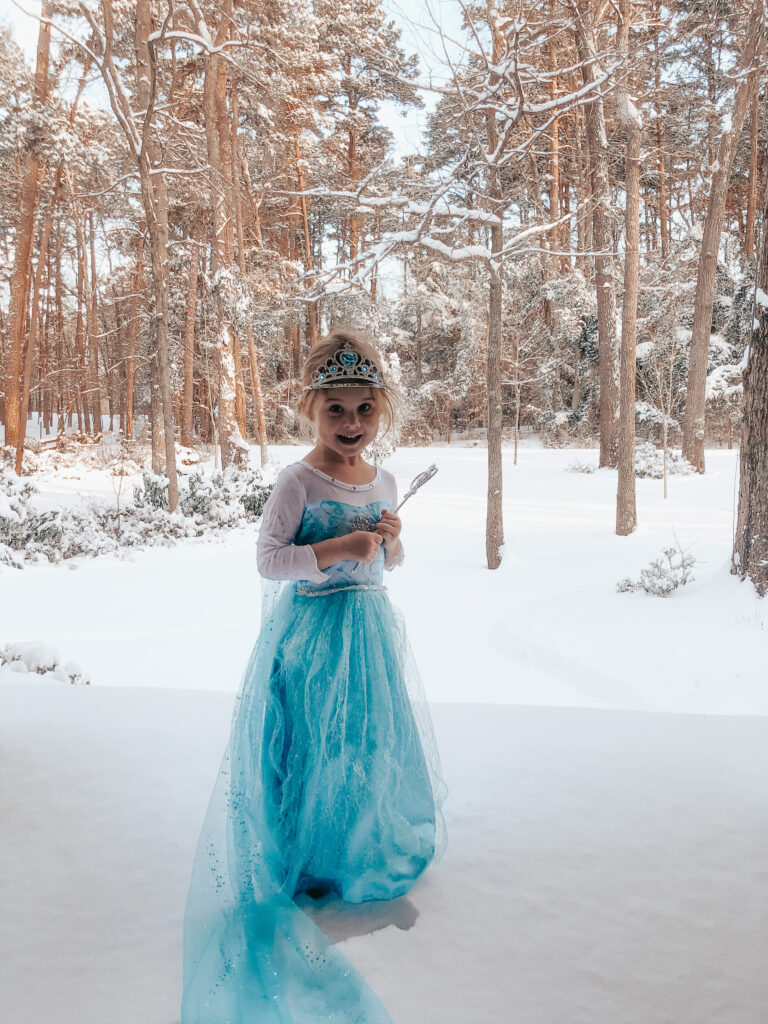 Shop the Post